Implants vs Dentures

Rochester, NY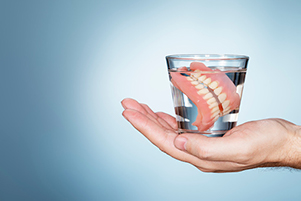 Do you need to permanently replace your missing teeth with ones that blend in with your natural teeth? Our experienced dentists at Stephen L Ruchlin DDS can restore your smile using dental implants or dentures for your replacement teeth.

Both dentures and implants work to replace your missing teeth. In recent years, dentures have improved drastically. The clumsy and bulky restoration that you saw your grandparents use is a thing of the past. Dental implants are available for a single missing tooth, several missing teeth, or a full arch of missing teeth. With the dental technology available today, there are several possibilities when it comes to tooth restoration.


Dentures

Complete dentures replace an entire set of teeth. If you have any remaining unhealthy teeth, these must first be extracted before you can receive your dentures. After the teeth are extracted, a mold is taken, which is then used to custom-create your dentures.

If you are opting for partial dentures, this eliminates the unnecessary need to extract perfectly healthy teeth. Partial dentures fill in the spaces between your healthy teeth, preventing food from getting stuck (which can then lead to more gum disease), as well as holding your natural teeth in place. Without anything there, your natural teeth can shift from their original positions, and throw off your bite.

Either way, measurements of your oral cavity will be sent to a dental lab, where your dentures will be created. When you return, our team will ensure that they fit properly. They will also review proper care procedures with you so that you can keep your dentures looking great.


Dental Implants

Today, dental implants are the most advanced option to replace missing teeth. If you choose dental implants, they will replace the root of your tooth and will be covered by a crown or dental bridge. Your dental implants will be surgically placed into your upper or lower jaw when they can function as an abutment, or anchor tooth for replacement crowns and they will be made from biocompatible materials that will not be rejected by your body's immune system.

By choosing dental implants, they will provide a strong foundation for permanent teeth that will be made to match your smile and fuse with your bone and your implants will provide the best long-term option for restoring your smile.


Implant Supported Dentures

Implant-supported dentures fit into your jawbone to provide denture support. The procedure is helpful when you have multiple missing teeth and need a replacement. Oral surgeons perform surgical procedures to create implants in the jawbone, after evaluating the bone's strength. In case of tissue damage, doctors may perform a bone grafting procedure to restore the bone's strength.


Which Dental Restoration Do I Choose?

Both dentures and dental implants provide good choices for replacing missing teeth. A dental examination in our office is the first step to determining which tooth restoration would be best for you. Dentures have been around for a long time and are a trusted tooth replacement. They do require a little more care than dental implants do. With dental implants you simply brush and floss your teeth as you would your natural teeth. Dentures need to be replaced after several years, whereas dental implants are permanent. Dentures do not require the oral surgery that dental implants do, and are able to be placed sooner than implants.

Contact us today to discuss whether dentures or dental implants would be a good fit for your situation at Stephen L Ruchlin DDS. We are available by phone at (585) 427-7820.