All-on-X Dental Implants

Rochester, NY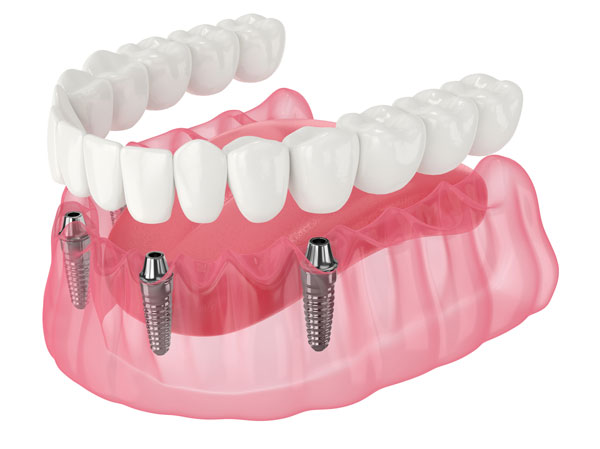 The American College of Prosthodontists says that about 178 million people in America have one or multiple missing teeth and approximately 40 million have all of their teeth missing. Going by these statistics, a considerable number of Americans need teeth replacement solutions to rebuild their oral functionality.

Patients seeking to replace just one or a few teeth can benefit from regular single or multiple dental implants. However, in the case of patients who are missing all of their teeth or the teeth are so badly damaged that they have to be extracted, then All-on-X dental implants prove to be a superior solution. Our qualified and skilled dentist at Stephen L Ruchlin DDS places All-on-X dental implants to build an entire row of new teeth that are strong, look natural, and bring back a perfect new smile.


What is All-on-X?

All-on-X is a whole, full-mouth teeth replacement solution that works for those who have entire arches of missing teeth. It is a specialized dentistry procedure that a qualified dentist can employ to replace a complete row of teeth using just as few as two to four dental implant posts. These implants are placed in the bottom or top jaw, thereby positioning themselves in the jawbone at a go. This way, it eliminates the possibility of having a mouth full of individual dental implants for each tooth.

Another advantage is that All-on-X can be done in just one day. A patient comes into our dental office and leaves with a natural, permanent set of new teeth at the same appointment.


How Does All-on-X Work?

The set of teeth you receive is mounted on just two to four dental implants, unlike the six, seven, or eight implants that were used before. The trick in achieving a stable arch of teeth supported by just a few implants is the insertion of the implant posts at strategic angles.

When it comes to the regular single implants for every tooth, the posts themselves are driven into the jawbone in a straight position. However, for the All-on-X, it is a game-changer in that the implants are angled so that more available jawbone is utilized to anchor the posts. This way, the implants rest on a sturdy foundation to support the new arch of teeth.


How Long Does Healing Take After All-on-X?

Just like regular dental implants, the healing period for All-on-X is roughly three to six months. The reason is that there is osseointegration that has to occur, and it follows the same recovery path since it involves the bone fusing with the implant metal. The implants are fabricated from biocompatible titanium or zirconia materials, therefore, they work well in conjunction with the body.

During the healing period, a patient can decide whether or not they are happy with the shape, fit, color of teeth, and the bite in general. Our dentist can do all the changes you may need in order to ensure your permanent set of teeth look exactly how you want.

If you are missing all of your teeth, or the remaining ones need to be removed due to extensive decay, visit Stephen L Ruchlin DDS to discuss the possibility of getting All-on-X dental implants. Contact us at (585) 427-7820 to set up your appointment.