Are Dental Implants Safe?

Rochester, NY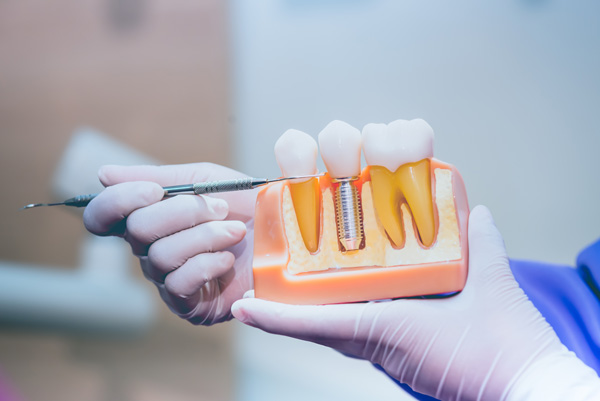 If you have missing teeth, you should get the right replacement to ensure the remaining teeth stay aligned. Getting replacement teeth will also help you preserve your facial shape as well as your ability to eat or speak. One of the most effective and safest teeth replacement options is dental implant restoration.

Dental implants are artificial replacements of tooth roots. They're placed in the jawbone to securely hold either a dental bridge or crown. At Stephen L Ruchlin DDS we will help you get a dental implant that will restore your smile and your ability to speak and eat.


Dental Implants Are Safe When Recommended By a Doctor

Dental implant restoration has been successfully and safely used in dentistry for over 30 years. For people with good health, the risk of severe problems or complications is almost nonexistent.

The success rate for dental implants is up to 98 percent. However, for you to get a good outcome after a dental implant restoration procedure, you should maintain great dental hygiene. With proper care, you can have your implants for a lifetime.


Dental bridges are prosthetic teeth that are attached to the teeth that border your missing tooth. Dental bridges aren't placed below your gum and thus the bridge's structure may be visible, which makes them aesthetically less appealing. Besides, it may take time before you get used to having a bridge.

If you don't want your existing healthy teeth to be damaged during teeth replacement, implants may be the better option. With a bridge, the dentist may have to file away the natural teeth that border the missing tooth so that they can be used to secure the bridge. Conversely, implants are embedded into the jawbone and thus function like natural teeth.

Also, implants can last as long as your natural teeth, if well taken care of. Conversely, a dental bridge may weaken with time because of the pressure. Dental bridges, often, require restoration treatment after some time.

If you have a missing tooth, the teeth that bordered it can slant to fill the gap left by the missing teeth. Also, your jawbone in the gap may deteriorate in that area due to a lack of stimulation from the tooth root. While a bridge can help keep the bordering teeth in place, it's not embedded into the jawbone and so it won't prevent bone loss. Deterioration of the jawbone can affect the shape of your face, making you look older.


Dentures are teeth replacements that are removable. You can get either a partial or full set of dentures. They are typically used by individuals who've lost sets of teeth.

Compared to dental implants, dentures are less costly. Besides, you can remove them whenever you want. They are a great option if you have a weak or unhealthy jaw.

However, dentures can shift in your mouth as you eat or speak if you haven't secured them with denture adhesive. Besides, poorly fitted dentures can lead to tooth decay and infection. You also need to clean them regularly as well as replace them once they wear significantly.

Call us at Stephen L Ruchlin DDS at (585) 427-7820 for more information on dental implants, dentures, and bridges. We'll be sure to discuss if dental implants are affordable for you.