How Long Is The Recovery Process For Implants

Rochester, NY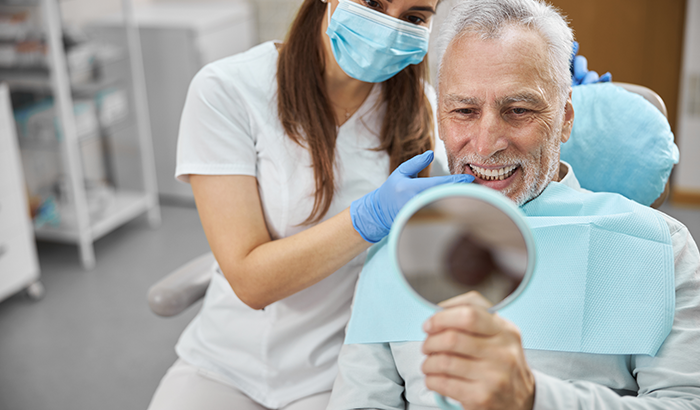 The dental implant is a great long-term solution to broken or missing teeth that can drastically improve your self-confidence and quality of life. From the first consultation for the implants to the implant surgery, the process takes between four and five months, along with the recovery time. The recovery process depends on individual cases and can vary from person to person. Stephen L Ruchlin DDS ensures you are well aware of the entire procedure, the cost of the implants, associated risks, and recovery instructions. Our doctors, Dr. Ruchlin and , are with you each step of the way to make sure the implants are successful and last long.


Recovery Process for Implants

The dental implant restoration procedure is safe with a quick recovery process, but the healing time may vary from case to case.


Initial Surgery

The recovery time for the initial surgery is between one to two weeks. Your gums will start healing and securing the implant. You will be provided with a set of recovery instructions and recommendations to speed up the healing. The discomfort, pain, or swelling will start to fade away within the first two weeks.


Osseointegration Process

Even though you will recover from the initial surgery within two weeks, the osseointegration process can take longer. During this process, the implants are bonded permanently with the jawbone, which takes longer compared to the recovery and healing process. Generally, osseointegration takes around four to six months or longer. It is essential to understand that the process shouldn't be rushed since it needs to be permanently bonded to the jaw before the artificial tooth can be placed.


The dental bridge recovery doesn't take long, and you can immediately return to your routine. Generally, the recovery process for bridges requires less than two weeks. The procedure is simple and quicker than dental implants, but they don't tend to last as long as the implants.


Dentures require tooth extractions that could take six to eight weeks for the gum tissue to fully recover. The healing process can take as long as eight months, based on the individual case.


Factors Impacting Recovery Time

The recovery process for every individual is different, making it challenging to determine the exact recovery time. Multiple things can impact the healing process, including:

| | |
| --- | --- |
| • | Number of extracted teeth |
| • | Amount of bone grafting needed |
| • | Overall oral health |
| • | Dental hygiene |
| • | Aftercare of implants |
Tips to Speed up the Recovery Process

Here are some tips to accelerate the recovery process of implants:

| | |
| --- | --- |
| • | Consuming only soft foods for the initial week |
| • | Avoiding extremely cold or hot drinks and food |
| • | Eliminating caffeine and alcohol |
| • | Restricting strenuous activities |
| • | Not smoking |

While implant surgery is a quick and simple procedure, the aftercare of the implants can have a significant impact on the recovery process and success of the implants. For a quick recovery, it is vital to follow the instructions of the dentist to ensure the healing goes smoothly.