Types of Dental Crowns

Rochester, NY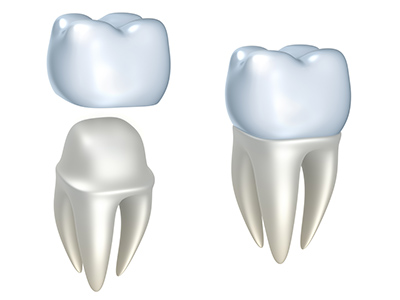 What Are Dental Crowns?

Dental crowns are tooth covers, or caps, placed over damaged teeth to protect and hide them. Placement of dental crowns is a vital medical procedure as untreated decayed or damaged teeth can be painful, infectious, and contaminate other teeth as well as gums, the jaw, and tongue. Oral diseases can also lead to many other physical health issues due to a patient's inability to eat properly or the food becoming contaminated in the mouth before it is swallowed.

By getting damaged teeth covered with dental crowns, patients can enjoy their mouth's aesthetic and functional restoration. They also hide the damaged teeth and prevent them from deteriorating further. While dental crowns are not as strong as natural teeth, they are the best solution to ensure long-term oral and dental health.


Types of Dental Crowns

There are five types of dental crowns:


Resin

Resin dental crowns are the cheapest of all, but they are also the weakest. Resin dental crowns easily chip away and usually last between five to eight years.


Porcelain

Porcelain dental crowns are most commonly used for damaged front teeth. They are not the strongest or the longest-lasting. In fact, they can chip away over the years. However, they can be easily made to match the natural color of the neighboring teeth.


Metal

Metal dental crowns can be made of titanium or gold. While metal dental crowns are expensive, they are incredibly strong and last up to 20 years. Good oral hygiene habits and proper care can add a few more years to their lifespan.


Metal and Porcelain

These hybrid dental crowns include a metal frame with a porcelain layer. They are used to improve the appearance of the metal crowns when used on the teeth in the back or to strengthen porcelain crowns when used on the front teeth.


Ceramic

Ceramic crowns look like porcelain crowns but have greater advantages over them. These benefits include greater strength and longer lifespan, among others.


Benefits of Ceramic Crowns

Ceramic dental crowns are translucent, which helps them match the natural color of the tooth over which they are placed. While porcelain crowns can also match the natural color of the teeth, ceramic crowns are considerably much stronger. They can be used for any tooth's cover and protection. Ceramic crowns are easier to maintain and don't cause allergies like metal crowns. Compared to metal crowns, ceramic crowns also cost and weigh less while lasting the same duration.


Same Day Crowns

The greatest advantage of ceramic crowns is their quicker, one-step placement process. At our advanced dental facility, Stephen L Ruchlin DDS, we carry intraoral scanners and a computer-aided design system to carve 3D ceramic dental crowns from ceramic blocks in under 15 minutes. When you visit our facility, the dentists or Dr. Ruchlin will examine your oral health, treat the damaged tooth, and take an impression for the ceramic crown. Once the crown is ready, it will be placed through a pain-free and simple process. To book a same-day crown appointment, call us today at (585) 427-7820.